Hanging Systems
Pro Panels hanging systems accommodate a wide range of sizes, weights and hanging types. Whether you're exhibiting photographs, paintings, mixed media, ceramic wall pieces, metal art, posters, foam board signage or any other type of 2-dimensional piece, we've got a hanger that will work for you.
For a quick overview of our hanging systems click on the video below.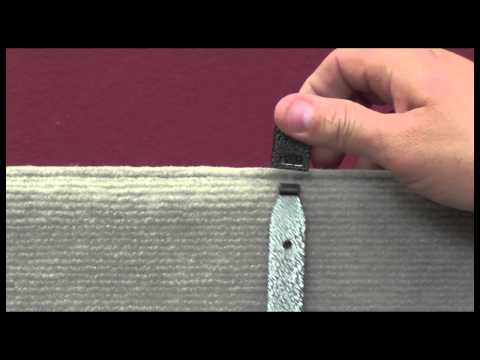 Cable Hanger
From $12 ea
• Stainless steel, high-tensile aircraft cable. Each cable comes with one chrome plated, adjustable grip.
• Multiple grips can be added on a cable to utilize the entire panel height.
• Each cable holds up to 50 lbs.
• Simple push button on top of Grip to adjust height and lock into place.
• Grips are about 3″ long and stick out from the panel 1″. Inside of top hook measures 1″ wide.
Silver
18″ long – $12 ea
48″ long – $14 ea
72″ long – $16 ea (for 8′ tall + panels)

Black
18″ long – $14 ea
48″ long – $16 ea
72″ long – $18 ea (for 8′ tall + panels)

Extra Grip- $7 ea (silver only)
Cable Caddy
$25 (our color choice) $30 (your color choice)
• Great way to store and organize your Cable Hangers, keeping them tangle free.
• Velcro straps to secure the cables in place.
• Pouch at the bottom to keep the loose ends from tangling.
• Loop at the top allows the caddy to conveniently hang from panel post during setup.
• Rolls into neat bundle.
$25 (we choose the color)
$30 (you choose the color)

Anchor Hanger – $8
Hanger Kit – $20
• Anchor is 5/8″ wide and 14″ long,
• Extensions are 15″ long.
• Kit consists of 1 Anchor and 2 Extensions equaling 44″.
• Pieces hook together, allowing you to hang from the top to the bottom of the panel.
• Hang from S Hooks, which you place in holes spaced 2″ apart
• Holds up to 50 lbs per S Hook.
Hanger Kit (44″) – $20
1 Anchor Hanger  (14″)
2 Hanger Extensions (15″ ea)
5 S Hooks
Anchor Hangers (14″) – $8 ea
Hanger Extensions (15″) – $6 ea
Hanger Posts
$6 bag of 10
• 2 part metal posts that can be inserted into Anchor Hanger or Hanger Extension as an alternative to S Hooks.
• Hold up to 20lbs.
• Head diameter 7/16″, Post diameter 1/4″, comes out 3/8″ from hanger.
• Screwdriver needed for tightening.
Gridwall Hangers
$20 pair
• Allows you to use gridwall pieces on your Pro Panel walls to display items such as clothing, belts, handbags, and hats.
• Gridwall not included.
• Works with most gridwall brands.
Drapery Hooks
$4 bag of 25
Go directly into the carpet, allowing you to display your artwork without a visible hanger behind it.
Use selectively, as some pieces will leave puckered marks in the carpet when hung on a drapery hook.  To better maintain the life and appearance of your panels, consider using either the Hanger Kit or the Cable Hanger.

Small Pro Clips
$10 bag of 25
Small
Clear plastic clips with Velcro® backing. Measure 1″ wide. Perfect for holding sheets of paper, posters and single ply mat board.
Large Pro Clips
$14 bag of 12
3″ clear channel with Velcro® backing for up to 1/4″ foam core board or mats
Velcro® Dots
$40 Roll
Dots are available in 1/2″ and 7/8″ sizes. Please specify when ordering.
1/2″ – Qty 1440
7/8″ – Qty 900
Great for schools and artists wanting to display lightweight items such as price tags and artist bios.